---
Unique pattern packets to suit everyone's needs!
---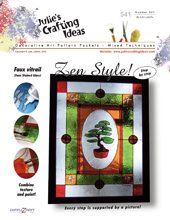 .......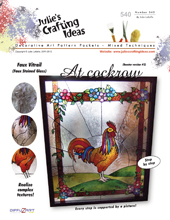 Julie's Crafting Ideas or "Des idées plein la tête!" pattern packets are uniques and are entirely created by the author (conception, photography, graphism, ...)
These instruction packets are intended for people that wish to realize by themselves decorative art projects without taking instructor-led workshops. Products and accessories used are easily found at your local art or scrapbooking store.
No pre-requisite skills necessary! Each step of the project has detailed descriptions and is supported by one or more pictures with reference color pictures when needed. This "step-by-step" approach is a proven recipe to successfully lead you to project completion.
Finnally! Pattern packets that suits everyone's needs, from the beginner to the seasoned artist!
Consult the complete list of pattern packets and other publications