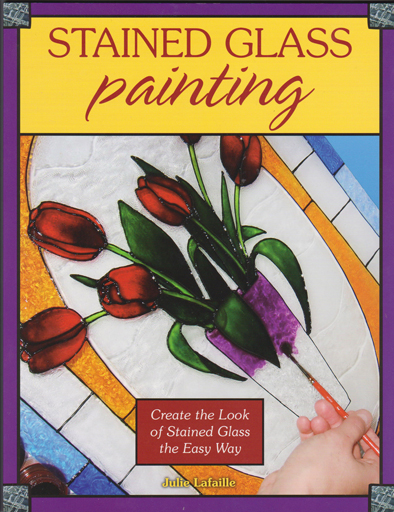 Stained Glass Painting
Create the look of stained glass, the easy way
by Julie Lafaille
(Mix media, Pebeo, Vitrail)
ISBN 9780811714198
To order: Amazon
Available in bookstores
US Stackpole books
www.stackpolebooks.com
Canada
Archambault
Indigo
Customer Review
Amazon Customer
5,0 sur 5 étoiles Great book!!
Commenté au Canada le 5 mars 2018
Fantastic. Easy to read and great detailed instructions.

Amazon Customer bonz
5,0 sur 5 étoiles Highly recommend.
Commenté au Canada le 25 février 2018
Very helpful. Highly recommend.

International
Amazon Customer Susan A. Allen
5,0 sur 5 étoiles Great instuctuons
Commenté aux États-Unis le 17 juin 2019
It is a great beginner book.
Amazon Customer Laurie Hauck
5,0 sur 5 étoiles Not just for stained glass painting!
I am using this book for so much more than stained glass painting. Great tips and helpful hints! I also like that I had most everything on hand.

Amazon Customer
5,0 sur 5 étoiles #1
Commenté aux États-Unis le 6 avril 2019
This book has everything you need to know. Well written, easy to follow step by step instructions

Amazon Customer Debbie
5,0 sur 5 étoiles Five Stars
Commenté aux États-Unis le 28 novembre 2016
Great Book

----

Also French version: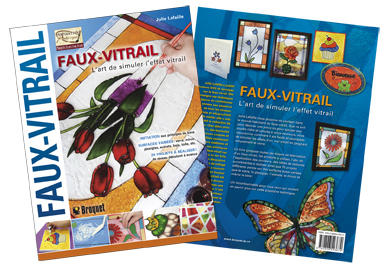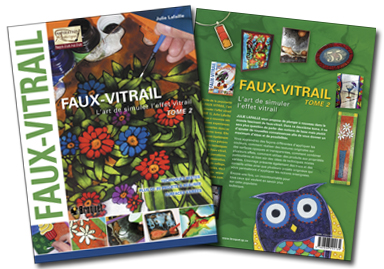 "Faux-vitrail, l'art de simuler l'effet vitrail #1 and #2"
Broquet Edition
"Collection "Inspiration artistique"
Distribution Quebec Canada: Prologue
France:
France ET BENELUX- DILISCO
Parc Mure 2-Bât. 4.4-128 bis, avenue Jean Jaurès
B.P. 102-94208 IVRY-SUR-SEINE
Cedex, France
Tél. : (33-1) 49.59.50.50
Téléc. : (33-1) 46.71.05.06
Minitel : 3614 DILISCO
A book full of ideas!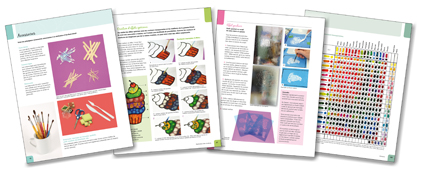 "This book is the result of long years devoted almost entirely
to the art of stained glass painting. What a pleasure it was to test all the products
and mediums in order to select the best ones. What a pleasure it was as well to invent spectacular and original effects. Although there are many possibilities when it comes
to faux stained glass, in this book I've brought together the most useful and
clear information that I've accumulated over these last years. Here, then, is the result
of my searching, a wide array of tricks and tips on the subject.

Julie Lafaille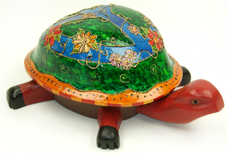 Stained glass painting is a technique for painting on glass to simulate
the look of stained glass-no cutting or assembly required. This book features
all the information you nedd to make a piece of beautiful faux stained glass
and also contains projetcs for working on less common surfaces,
such as a mirror, a sheet of acetate, or a block of wood. You'll learn how
to make 25 stunning projetcs with this clear, simple instructions.
Includes tips on how to paint diffrent textures, such as an embossed effect,
a frosted effect, a stucco effect, and more. One you know basic
stained glass painting techniques, the creative possibilities are endless!
Products used for projects: Pebeo Vitrail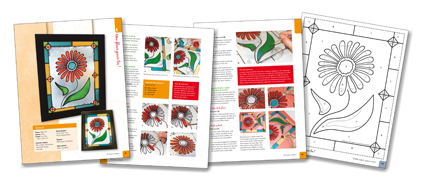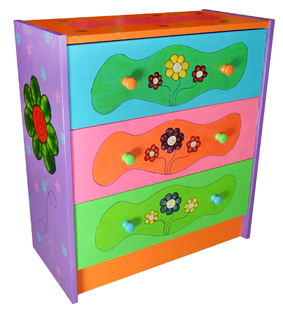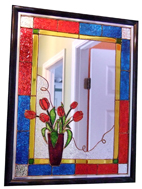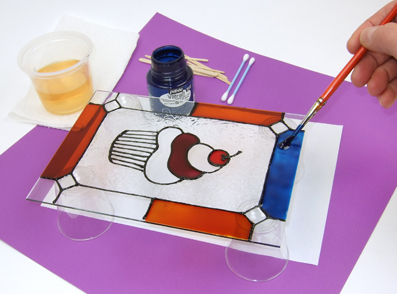 ....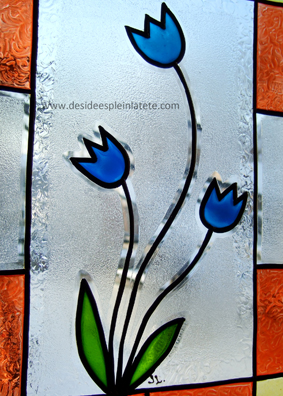 and more...

einture sur verre, simuler un vitrail,Pébéo, pebeo, produits vitrail, te relief truc, plomb adhésif truc, patron de faux vitrail, dvd faux vitrail