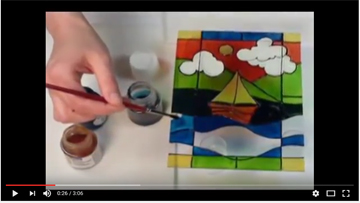 See clip on youtube:
This DVD is unique!
Learn how to create spectacular effects with colors and mediums, how to use relief outliner and self-adhesive lead strip, plus how to achieve crackle and frosted effects, and many more techniques.
In short, an absolute must for the "Faux" stained glass enthusiast! (Pebeo Vitrail Product)

DVD content
- Products and accessories
- Surface preparation
- Tracing of lines
- Relief outliner technique
- Self-adhesive lead strip technique
- Color application (base)
- Cleaning your brushes
- Application of colors
- Lightening the colors
- Drying and care
- Special effects, mediums and transparencies
- Crackle technique (Crackling effect kit on glass)
- Frosting technique (Matte Medium)
- Brilliant color technique (Glitter Medium)
- Painting knife technique
- Sponge technique
- Blending and flower petal technique
- Julie's special effects!
- Combinations of mixed techniques
- Transparency techniques (Lightening Medium)
- Distorted glass
- Foggy glass (brush)
- Foggy glass (sponge)
- Transparency on a frosted background
- Blurred glass

Bonus! Texture on glass
10 different effects
- Introduction - Embossed effect - Textured effect - Stamped effect
- Stucco effect - Fissured effect - Lined effect - Marbled effect - Frosted effect
- Stencilled effect - Texture and color
---
Angela Scherz from Pébéo introducing Julie Lafaille's Faux Vitrail DVD
at Coast2Coast 2012 Decorative Art Convention in Toronto.